YOUR INDIANA FULL SERVICE LAW FIRM
Book a consultation
"*" indicates required fields


MEET OUR LAWYERS
FAMILY LAW IN INDIANA
DIVORCE | CHILD CUSTODY | CHILD SUPPORT | GUARDIANSHIP | MEDIATION | PATERNITY
Our Indiana Family Law Firm has developed a reputation among peers, judges, and clients for effective representation in a broad range of family law cases, including complex divorces involving high conflict custody and high net worth marital estates. Our Hamilton County family law attorneys provide representation regarding all complex family law issues.
We recognize that people seek us out during an uncertain and anxious time in their lives. Domestic disputes over the breakdown of a marriage, high conflict child custody disputes, and complex property division disputes can pose intense emotional and financial challenges for families. Every case is different and we recognize a cookie cutter approach to family law will not work.  Our lawyers offer over three decades of collective experience when helping to restore stability and resolve contentious issues regarding disputes that impact the most intimate and fundamental facets of our clients' lives and family relationships.
PERSONAL INJURY LAW IN INDIANA
PERSONAL INJURY LAW IN INDIANA
AUTO/SEMI/MOTORCYLE ACCIDENTS | DOG BITES | WRONGFUL DEATH | SLIP & FALLS | CONSTRUCTION ACCIDENTS
When you've been injured in an accident, things seem to happen all at once. Suddenly you are confronted the pain of your injuries, getting the right treatment, and dealing with insurance companies. Engaging a personal injury attorney early in the process alleviates many of these concerns and allows you to focus on the task of recovery from your injuries. The skilled personal injury attorney secures evidence before it is lost and takes actions to protect and preserve your various legal rights, and then helps guide you through the rest of the process.
While each case is unique and the circumstances of each case differ, there is a common process involved in most personal injury cases. A skilled personal injury attorney can greatly impact the recovery you receive for a personal injury case, especially when retained soon after an accident occurs. The primary phases of a personal injury case can be organized as: Preliminary Investigation and Claims Phase, Treatment Phase, Demand Phase, Litigation Phase and Settlement Phase. Speak to one of our Personal Injury Attorney in Indiana now for the help you need.
COMFORTABLE OFFICES FOR MEDIATION
COMFORTABLE OFFICES FOR MEDIATION
ESTATE PLANNING IN INDIANA
ESTATE PLANNING IN INDIANA
WILLS | TRUSTS | POWER OF ATTORNEY | PROBATE | DISPUTES
Estate Planning in Indiana gives you the ability to control the distribution of your assets, protect your family members from inconvenience, and shield heirs from creditors. The process might make you initially uncomfortable, but a completed estate plan could deliver significant benefits and peace of mind. You could protect assets while substantially reducing future stress and expenses for your family. A thorough estate plan has the potential to limit delays in asset transfers, reduce or eliminate probate court fees, and prevent your finances from falling into disarray if you become incapacitated.
By consulting an estate attorney in Indiana, you could learn about issues pertinent to your estate, such as business succession, asset distribution among children and stepchildren, and support for a surviving spouse. Contact us today to begin estate planning in Indiana.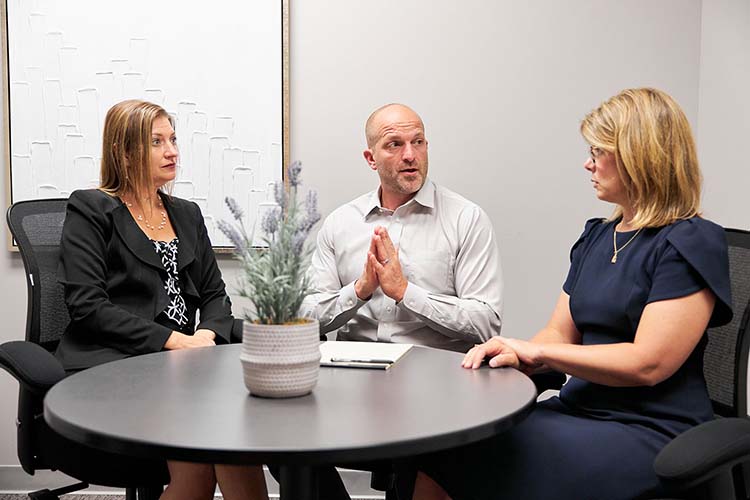 WHAT OUR CLIENTS HAVE TO SAY…
Absolutely one of the best Lawyers I have worked with. They were very knowledgeable and didn't waste anytime getting results! I worked with Carla; from the moment I walked into the door and began our consultation I knew she was going to do everything she could to help get my issue resolved in a fast and professional manner. I please to say that in just a few days she was able to get me the results I wanted. I will definitely be recommending them to my friends and family, as well as I will keep their number for any future issues I may have. Thank you very much Carla!
Webster & Garino is an amazing law firm. I had the privilege of working with Shana Paula, after having worked with a few lawyers before (and interviewing many), I can easily say that she was the most laid-back, understanding, helpful, caring, and organized lawyer I have come across.  At absolute no point did I feel otherwise. Shana made my divorce seamless, and I truly believe it would have been a much more difficult situation, especially emotionally, if I had gone with any other lawyer. 1,000% recommend Shana. She is worth every penny.
If a 7 star review was an option, I would choose it. Danica is amazing, knowledgeable and most importantly easy to get ahold of. Working with her has been nothing but excellent, communication is great and results are clear. After being for 15 years in business and dealing with multiple lawyers, I can finally call her "My Attorney". Look no further, I highly recommend her.
Mr. Webster knew the best way to handle my divorce proceedings. I got the desired outcome I was hoping for. He took all my information and handled it accordingly. I was very pleased how everything was handled
The Lawyer was knowledgeable, prepared, & effective. Shana gave me solid steps to follow so my case will be satisfactorly satisfied. I deeply thank her for her honestly, care, concern, effort & above & beyond nature. She really needs to do a how to be a lawyer 101 powerpoint.
Mr. Webster went above and beyond in assisting me with providing trustworthy advice! He was very efficient and timely in getting back with me and made me feel more confident in moving forward with my divorce process. I really appreciate him and his team; highly recommend them to anyone seeking a quality, trustworthy attorney!
They have been respectful and kind. They have always available. They have been accommodating. They have made a bad situation tolerable. I would recommend this firm to anyone.
I had Jacob handle some expungement work for me and they did an excellent job. Easy to talk to, fast on getting to work, and quick responses. Also good followup. Was very pleased. Thanks!
After calling over a dozen different attorneys trying to find one that could possibly represent me in a particular case, I got in touch with Will Webster. He listened to me explain my situation (long story short, my Fiancé & I purchased a vehicle, 3 days later we had a diagnostics done & it had a blown head gasket) Will explained to me that it wouldn't be cost efficient to hire him, he did however give me resources, and information to proceed moving forward to small claims court as well as how to file the necessary documents. All free of charge. Genuinely nice, down to earth guy.