How to Choose the Right Personal Injury Lawyer for You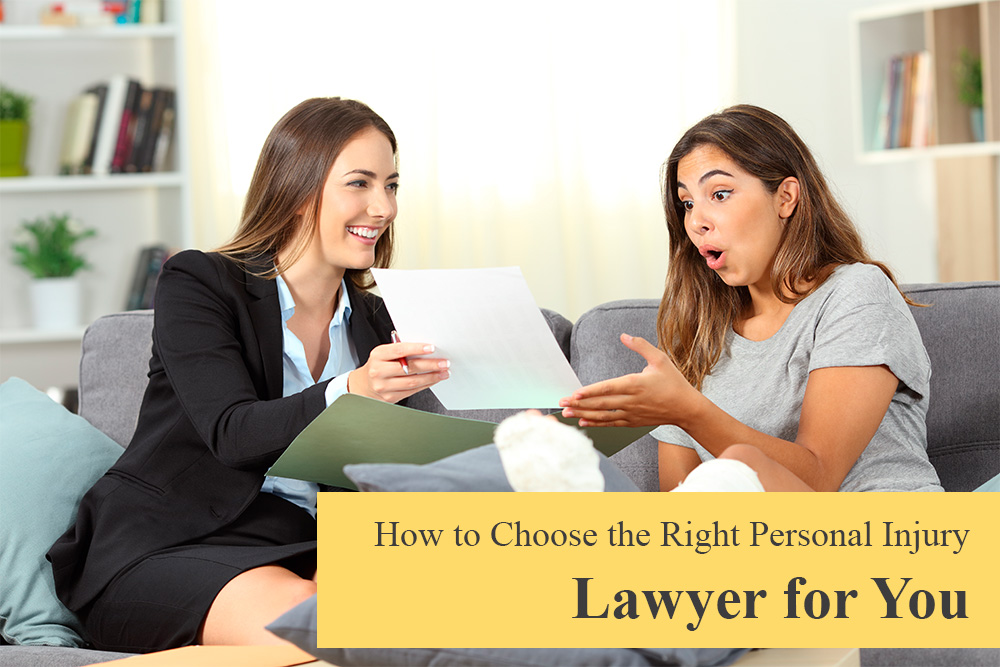 If you are thinking about hiring a personal injury lawyer in Indiana, the clock is ticking. The statute of limitations for filing most types of personal injury claims is two years from the date of your accident. You would serve your best interests by starting your search for a lawyer right away. This way, you will not have to rush a decision about who to hire or miss the statutory deadline for seeking damages. Because your case could involve a five, six, or even seven-figure settlement, you want to find the most qualified person in your area to represent your accident case. Investing a little time and effort up front should help you connect with the best personal injury law firm for your situation.
1. List Issues That Are Important to You
Before you start looking at different lawyers, make a list of the top issues for your case. Identifying your priorities or challenges provides clarity about the type of legal services you need.
Examples of issues pertinent to personal injury cases:
You need help determining who was at fault.
Your medical recovery will be long, and expenses are piling up quickly.
You are not sure what you can claim for damages.
You are unsure if you should accept a settlement offer that you have received.
2. Research Available Personal Injury Lawyers
People find lawyers in one of two ways:
They receive a word-of-mouth referral.
They find the personal injury law firm on the internet.
Before going online, ask your friends, family, and colleagues if they can recommend a personal injury lawyer. Even if you do not know anyone involved in an accident claim, someone in your network might know of someone or know about a local lawyer with a good reputation. Write down the names of any lawyers recommended to you, and you can research them while you look for other law firms online.
Even if you get a positive referral, you should still investigate other lawyers. Even a great lawyer is not the best fit for every case. You are looking for the personal injury lawyer in Indiana who can best manage your specific case.
When you go online, search for "personal injury attorney near me" or "best personal injury attorney in Indiana" because you probably want representation from someone who lives close to you. Many search engines can filter by legal area and location to narrow their list of near me choices. The Bar Association Directory has a page of all Indiana Bar Associations.
In general, you will want a lawyer near your location. A personal injury case can take a long time to resolve, and you can expect to have many conversations and meetings with your lawyer.
Read More On What Is 'Just Compensation' in Eminent Domain Cases?
As you look online or at directory listings, evaluate law firms according to:
Types of accident cases represented
Track record of recovering settlements, if available
Educational credentials, awards, and reviews
Fee structure for personal injury cases
Whether a free consultation is available
Most personal injury lawyers offer free consultations. They need to find clients appropriate for their practices, and this is how they do it.
As you do your research, make a list of lawyers who appear to fit your criteria.
3. Start Making Phone Calls
Some people are uncomfortable making phone calls, but telephone conversations are an ideal way to start vetting your list of lawyer candidates. A telephone call allows you to get a feel for the professionalism and responsiveness of a particular law firm.
If you feel that a friend or relative might do a better job with these phone calls, ask that person for help, especially if your injuries and pain make concentrating difficult. Provide your helper with your case details and a list of questions to ask.
During this first phone call, you should:
Provide the date of the accident.
Describe your accident and injures.
Ask if the office has experience with this type of case.
Confirm the lawyer's credentials.
Ask about legal fees.
Fees for a personal injury case are generally on a contingency basis, and this means that you pay a share of your settlement, if one is received, to the lawyer.
Unless you find your first contact with an office unsatisfactory, you can schedule a free consultation. You should plan to meet with multiple lawyers before making a final decision.
4. Make the Most of Your Free Consultations
Now that you have scheduled consultation appointments, you can get ready for the meetings. To have a productive meeting, you should bring all documentation related to your accident, such as:
Police report
Photographs
Medical records and bills
Insurance records
Your first meeting is meant for both sides to screen each other. The lawyer will want to evaluate the accident to see if you have a possible chance of recovering damages. You will be judging the lawyer's qualifications, resources, and personality fit. Aside from technical skills, you want a personal injury lawyer you feel comfortable with. As your case progresses, you can expect to engage in personal and perhaps sensitive conversations about your medical records and financial situation.
Suggested questions during your consultation:
What percentage of your cases are like my type of case?
How many years have you been representing personal injury victims?
Will you be handling my case or someone else?
Do you have trial experience?
Can you explain how and when I pay fees?
As you wrap up the conversation, a personal injury lawyer should be willing to present you with a contract for your consideration.
A reasonable contract will spell out:
The tasks that the lawyer will perform
What you need to do to help your case
All legal expenses
Payment schedule
How to leave the contract if dissatisfied
5. Make Your Choice
After meeting with prospective personal injury lawyers, study your notes to see who looked like the best fit for you and your case. You will weigh factors like your proximity to the law office, the lawyer's experience with your type of case, and cost. To break ties between candidates with equivalent qualifications, think about who made you feel the most supported. This last part is, of course, subjective but essential. Accident injuries can put you in a vulnerable position emotionally and financially. You want to select someone capable of guiding you through tough negotiations with an insurer or perhaps litigation.
Westfield Indiana Lawyers at Webster & Garino, LLC
Our law office handles accident cases related to motor vehicle crashes, slips and falls, animal attacks, construction accidents, and wrongful death. We are familiar with the challenges of collecting adequate compensation for people who have suffered a spinal cord or traumatic brain injury. We want to hear about what happened to you—Call 317-565-1818 to schedule a free personal injury consultation.