Is CBD Legal In Indiana?
CBD products have become widely available to residents of Indiana. CBD stands for cannabidiol, which is one of many cannabinoid compounds naturally produced within cannabis plant flowers. Merchants market CBD products for the relief of insomnia, anxiety, stress, and pain. As a result, you might be interested in using CBD, but wonder is CBD legal in Indiana?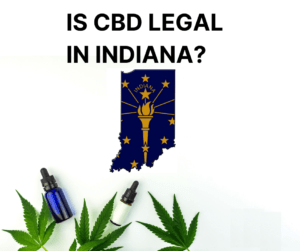 The short answer is yes, but laws against the intoxicating form of cannabis that contains THC (tetrahydrocannabinol) make interactions with law enforcement officers sometimes difficult to navigate. 
 Difference Between CBD and Illegal Cannabis
 Processors derive CBD from hemp plant flowers. Hemp is a variety of cannabis that produces very low amounts of THC within its flowers. On the other hand, illegal marijuana arises from cannabis plant varieties that produce higher levels of THC within their flowers. CBD products do not make you feel "high" when you use them because they contain no THC or only trace amounts. CBD laws in Indiana, established in March 2018, allow for the possession, sale, and consumption of CBD oil that does not contain more than 0.3% THC. 
 Police Might Arrest You Anyway
 Some people consume CBD in its hemp flower form by smoking or vaping. Possessing hemp flower could get you arrested because law enforcement officers could assume that it is illegal marijuana. Visual inspections, field test kits, and police dogs largely cannot distinguish between legal hemp and illegal marijuana. 
 Final laboratory analysis of the CBD flower in your possession could show that it was not in violation of the law. You would then likely avoid a conviction on drug charges, but you would still have gone through the experience of arrest and possible seizure of your vehicle. These outcomes will likely disrupt your life and threaten employment. 
 Other CBD products in the form of oils or edibles could also confuse police because of similar THC-containing products exist. Any interaction with law enforcement when you're in possession of CBD could leave you vulnerable to erroneous arrest. 
 Even without a conviction, authorities have already established an arrest record in your name. Although expungement could eventually remove the arrest record from public view, you would have to endure a waiting period and pay court fees. 
 How an Attorney Could Help
 CBD laws in Indiana are meant to enable you to access the medicinal forms of cannabis-derived from hemp. Generations of marijuana prohibition, however, have conditioned law enforcement to target anything that resembles marijuana or THC oil.  A criminal defense attorney from Webster & Garino could challenge law enforcement errors and protect your rights. Call us for a free consultation at 317-565-1818.
DISCLAIMER/ATTORNEY MESSAGE:
The information contained in this website/webpage, including, but not limited to, written material, recorded material and/or video/visual material is provided for informational purposes only, and should not be construed as legal advice on any matter.
The transmission and receipt of information on or through this website, in whole or in part, or communication with Webster & Garino LLC via the Internet or e-mail through this website does not constitute or create an attorney-client relationship between us and any recipient. You should not send us confidential information in response to this website or webpage. Such responses will not create an attorney-client relationship, and whatever you disclose to us will not be privileged or confidential unless we agree to act as your legal counsel and you have signed an engagement letter with Webster & Garino LLC. The material on this website/webpage may not reflect the most current legal developments. The content and interpretation of the law addressed herein is subject to revision. We disclaim all liability with respect to actions taken or not taken based on any and all of the contents of the website/webpage to the fullest extent provided by law. Do not act or refrain from acting based upon this educational information only without seeking your own professional legal counsel.
What is considered a criminal offense in Indiana? Read more here.