Specialized Driving Privileges in Indiana After License Suspension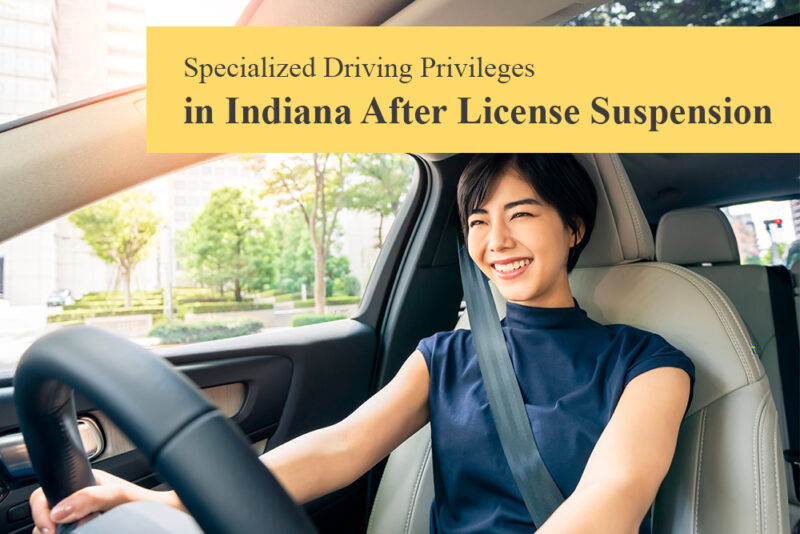 Indiana's Updated Special Driving Privileges (SDP) Laws.
Since 2015, Indiana has updated Special Driving Privileges (SDP) laws. These reforms have eased many restrictions that had previously kept people with suspended driver's licenses off the road. To ask for the reinstatement of limited driving privileges, you must prepare an SDP petition and convince the court of your necessity to drive. Ideally, you will have the best DUI lawyer available to assist you with this request because its approval is critical to your daily life. For this reason, SDP is sometimes still referred to as a hardship license in Indiana, although that is the old legal term.
Who Is Eligible for Special Driving Privileges in Indiana?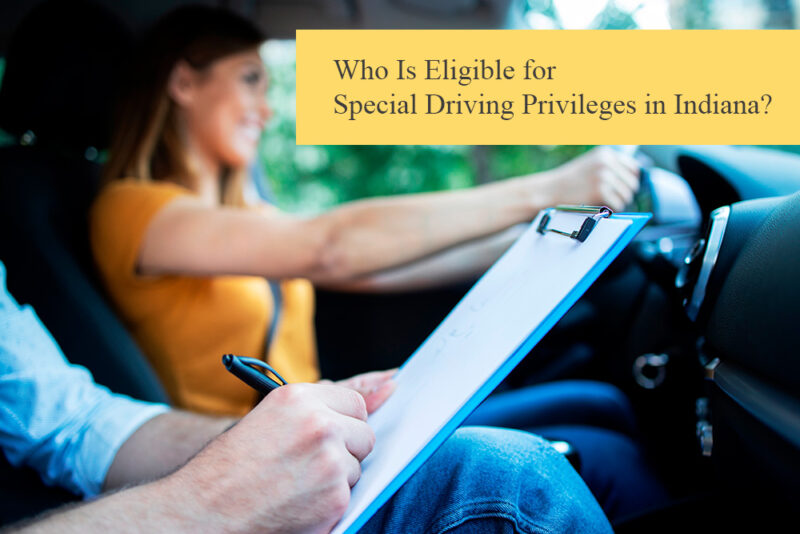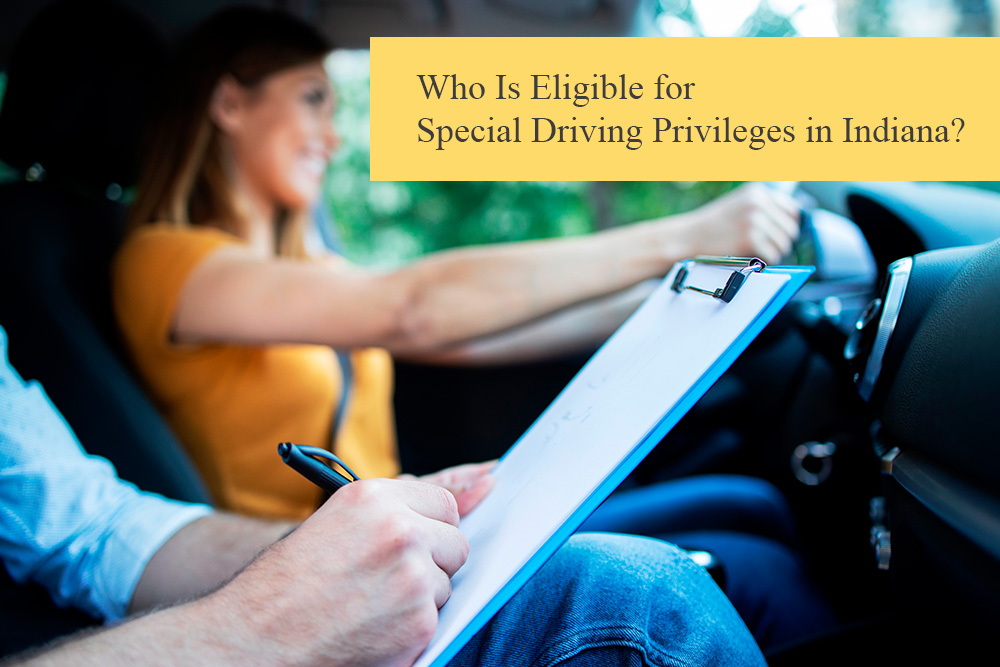 For the most part, people in Indiana who had their driver's licenses suspended by the Bureau of Motor Vehicles or a court after a DUI or conviction on another serious traffic offense could qualify for SDP if they can present acceptable reasons. The eligible group also includes people who lost driving privileges due to a DUI conviction involving the operation of a motorboat.
However, the following circumstances disqualify someone from petitioning for SDP:
Not a resident of Indiana
Refused chemical test at a traffic stop
Killed someone while operating a motor vehicle
Killed or injured others after already receiving SDP
Deemed unfit to drive by BMV
If you are uncertain how a court might view your SDP petition, a DUI lawyer can develop a strategy to help you make a convincing argument. As long as your case does not place you in a disqualified category, you may regain some ability to drive, provided that you have a legitimate reason to do so. However, SDP cannot grant approval to drive any vehicle that requires a commercial license.
Why Should Someone Choose Webster & Garino, LLC as Their Criminal Lawyer in Indiana?
Acceptable Reasons for Requesting Specialized Driving Privileges
The reforms to the SDP statutes recognized that an inability to drive legally under any circumstances could negatively affect a person and sometimes a whole family. Lack of transportation can eliminate the ability to work and support his or her dependants.
Your SDP petition will outline in detail why you need to drive somewhere. Common reasons that courts routinely accept include driving for:
Work
Childcare
Access to groceries
Eldercare
School
Medical appointments for self and family members
Attendance at court-ordered counseling
Attendance at probation appointments and court proceedings
If you can communicate any necessity effectively, you may gain approval to drive for any reason that a court considers legitimate. With representation from the best DUI lawyer, you may succeed at explaining your special circumstances.
Documents Necessary for Filing an SDP Petition
Your SDP petition must be filed at the court that suspended your license as part of a DUI or traffic offense. Attention to detail when preparing this document is essential. In addition to your personal identifying details and case number, you must present:
Precise descriptions, including addresses, of where you need to drive
Explanation of why you must drive to these locations
Certified copy of your official driving record
Proof of employment, if requesting SDP for work
Insurance verification
Copy of driver's license
How to Improve Chances of SDP Approval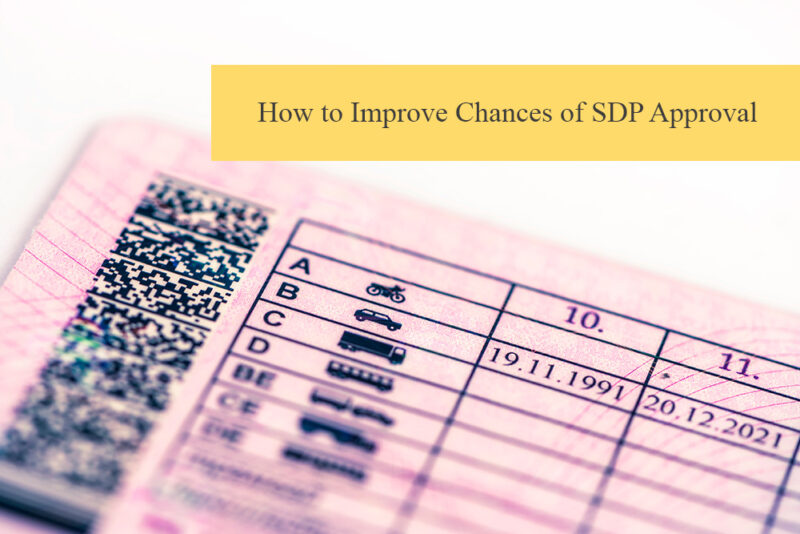 Although the law has expanded access to SDP, this does not mean that a court will automatically grant these privileges. Your SDP hearing is your chance to prove your intention to use SDP responsibly.
To achieve approval, a DUI lawyer might recommend that you complete extra steps to demonstrate your worthiness. If alcohol or drug use led to your license suspension, then showing attendance at a treatment program could improve your standing with the court. Additionally, you might gather letters of recommendation from a sponsor, family member, employer, or community leader.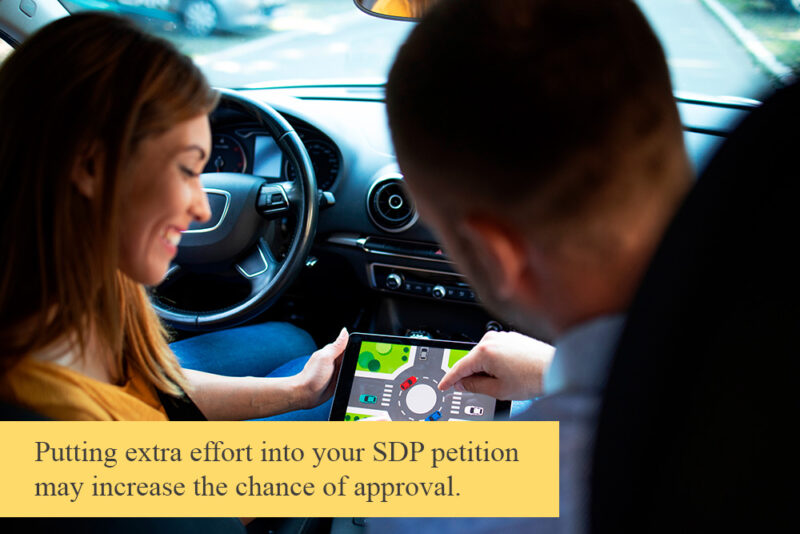 Putting extra effort into your SDP petition may increase the chance of approval. You will communicate that you take the process seriously and have taken steps to address the problems that led to an intervention by the criminal justice system.
Conditions a Court May Apply to Your SDP
When the court reviews your SDP petition, your necessity of travel will be evaluated as well as the perceived risk of granting you some driving privileges in consideration of the original reasons for license suspension. The court has the power to impose certain conditions that must be met to comply with your SDP order. An ignition interlock system may be required, and such a condition would incur ongoing out-of-pocket expenses to pay for the equipment and monitoring.
SDP conditions may also include restrictions on the days and hours you are legally allowed to drive. These restrictions typically revolve around your legitimate needs, such as work hours or school drop-off and pick-up times for children. Your SDP order will specify your approved driving schedule. In some cases, an SDP order could even designate the route you must take to prevent any deviation from your approved reasons for driving.
Should a court approve your SDP petition, you will need to carry the SDP order on your person or in your vehicle at all times. You must present the document if law enforcement stops you. Failure to have the court order with you will violate the terms of your special privileges.
Rebuild Your Life With Help From a DUI Lawyer
Webster & Garino, LLC has worked with many clients over the years who need to navigate the legal system and regain limited driving privileges while completing a sentence. If you are in the vicinity of Westfield and searching for a DUI attorney near me, then our criminal defense team is willing to evaluate your case.
We can determine your likelihood of success with an SDP petition. Should you appear to qualify, we can communicate your needs in court and help you and your family recover from driver's license suspension disruption. To schedule a meeting, call 317-565-1818 or email our office with this contact form.