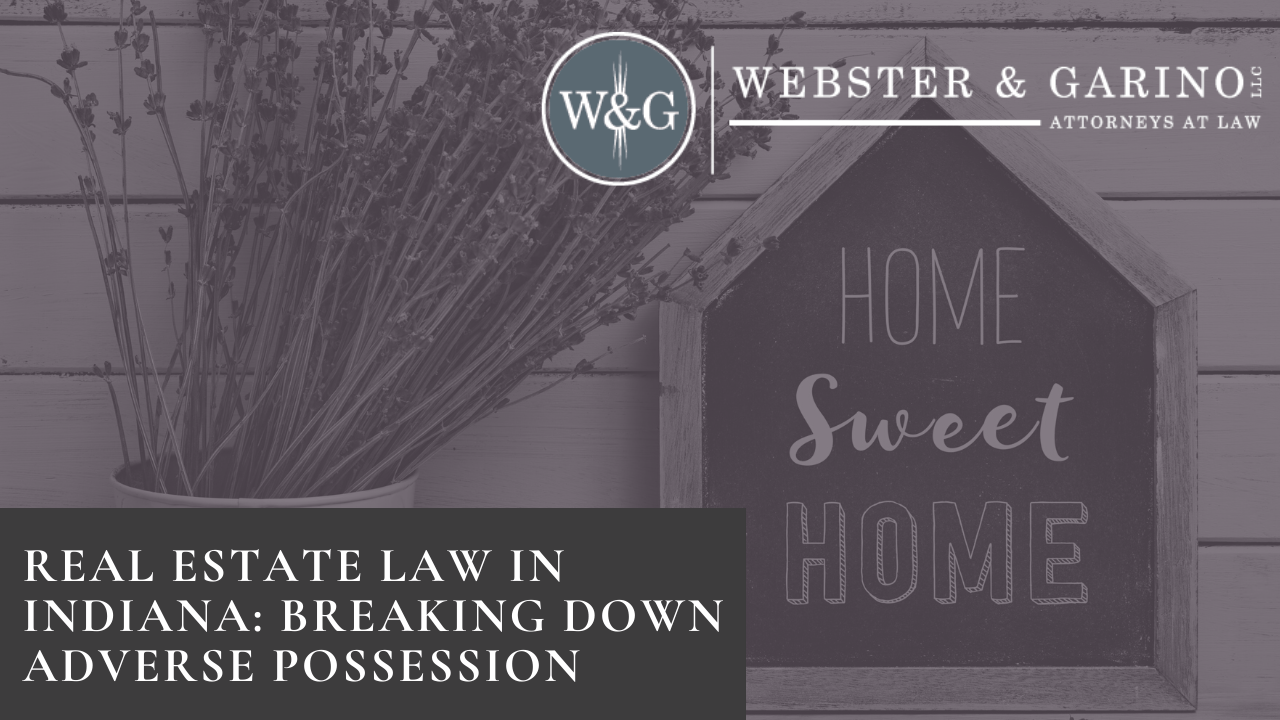 Breaking Down Adverse Possession
Inattentive owners of real estate could eventually become subject to an adverse possession claim. Adverse possession describes the concept of people acquiring title to property by occupying it instead of purchasing it. Real estate law in Indiana sets forth the conditions that could result in a party gaining legal title to property without paying for it. Whether someone is making an adverse possession claim against your property or you wish to apply adverse possession to obtain legal title, it is import to consult with an experienced Westfield Indiana real estate attorney. 
Duration
 A person must occupy a property for at least ten years in Indiana to make an adverse possession claim. During this period, the person must also prove additional continuous actions that meet the other conditions necessary for an adverse possession claim. 
Control
 Exclusive and continuous possession is necessary to show control. A person cannot share the property with others while occupying it for personal use. Someone might assume actual possession of a parcel because of an incorrect deed, misinterpretation of a deed, or failure to realize that the property belongs to someone else. 
 Trespassing represents another form of possession known as open and notorious possession. The party is aware that the land belongs to another party but knowingly occupies and uses it anyway.
Intent 
 The person occupying the property must make clear the intention of claiming ownership of the property. 
Notice
 To go forward with adverse possession, the person, known as the claimant, needs to inform the actual owner. The claimant may provide formal notice to the owner of the record or fulfill the notice requirement constructively. This would occur when the claimant's actions make clear the intention of assuming ownership. 
Payment of Taxes and Special Assessments
 Indiana law expects claimants to prove that they paid the taxes for the property while occupying it. Evidence that a claimant made a reasonable faith effort to pay the taxes could suffice. A unanimous decision from the Indiana Supreme Court set the precedent that claimants, who realistically believe that they have paid taxes, could satisfy this condition for an adverse possession transfer of title. In Celebration Worship Center, Inc. v. Patrick Tucker, et al., the Tucker family thought that the taxes they were paying included the fees for the adjoining parcel that they sought to claim. 
 Real estate disputes can be very nuanced. The attention of a Noblesville Indiana real estate attorney can help you succeed with an adverse possession claim or defend yourself from the loss of title.
DISCLAIMER/ATTORNEY MESSAGE: The information contained in this website/webpage, including, but not limited to, written material, recorded material and/or video/visual material is provided for informational purposes only, and should not be construed as legal advice on any matter. The transmission and receipt of information on or through this website, in whole or in part, or communication with Webster & Garino LLC via the Internet or e-mail through this website does not constitute or create an attorney-client relationship between us and any recipient. You should not send us confidential information in response to this website or webpage. Such responses will not create an attorney-client relationship, and whatever you disclose to us will not be privileged or confidential unless we agree to act as your legal counsel and you have signed an engagement letter with Webster & Garino LLC. The material on this website/webpage may not reflect the most current legal developments. The content and interpretation of the law addressed herein is subject to revision. We disclaim all liability with respect to actions taken or not taken based on any and all of the contents of the website/webpage to the fullest extent provided by law. Do not act or refrain from acting based upon this educational information only without seeking your own professional legal counsel.
Here's why you need an Indiana lawyer when charged with a criminal act